Unique wedding gifts
"I just wanted to say thank you for sorting out the plate for the wedding at short notice, we had lots of comments about what a good idea it was. The bride burst in to tears when we gave her the plate – I think that means she liked it!" TW - Bristol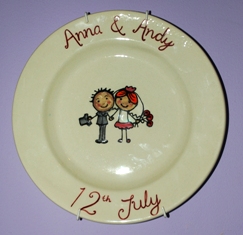 Looking for a truly one-off wedding gift?
Want to stray away from the dreaded ''gift list" but not sure where to look?
With our wedding signature plates you can give the happy couple a totally unique memento of their special day. Simply select your chosen design from our portfolio (a small graphic of a bride & groom, wedding cake etc), tell us the text you want on there (names, dates) and we paint, glaze and fire it.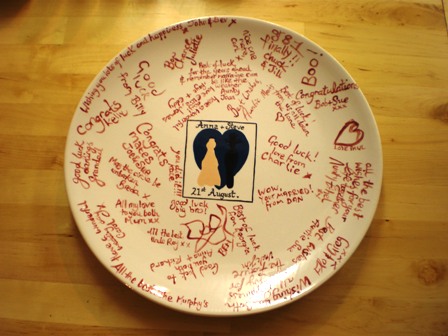 You then collect it and take it to the wedding where guests write messages for the bride and groom on the plate with one of our special ceramic pens.
Then simply pop it in a domestic oven for half an hour to seal the signatures! The bride and groom can then keep it a lifetime as a reminder of the day.

Prices (circular style) are just £40 for a small plate, £50 for a medium, or £60 for a large. Please allow plenty of time for us to paint the central design (around 3-4 weeks preferably). The ultimate original wedding present!