Kids parties
PLEASE NOTE that due to Covid-19 the Party Room is currently set out differently to pre-pandemic times...
PARTIES AT FLYING SAUCERS ARE OUT OF THIS WORLD!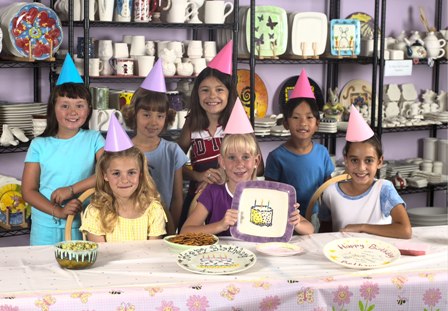 We have the perfect venue for parties, whether you're 5 or 85!
You'll have a party to remember and best of all every child will have something unique to keep afterwards.
And you don't have to do any washing up!
We have a wide range of pottery to appeal to boys and girls of all ages and cater for a variety of budgets.
Prices start from £12.50 per child (minimum of 9)
PARTY ROOM - Our vibrant self-contained party room is set up with large group tables to encourage a party atmosphere. We offer you free exclusive use of the room for the party !! (when booking a group of 9 or more) We can seat up to 16 / 18 children here (depending on age - please phone to enquire about bespoke special arrangements for larger groups accommodated elsewhere in the studio)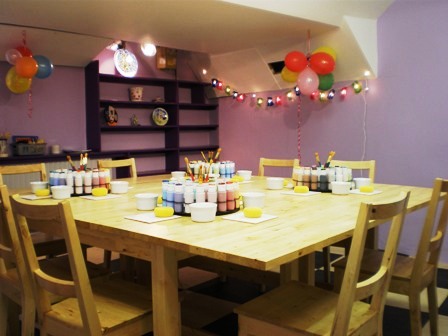 THEMED POTTERY PARTY PACKAGES!!
(minimum of 9 children - includes free extras and discount on standard studio prices)
Available for birthday child plus 8 or more friends
All parties are for up to 90 mins, are all inclusive of studio fee plus one item of pottery each and also include free private use of the party room during that time, squash for the children, a hot drink each for 2 supervising adults, and our gift to the birthday child – a standard size memento plate.
You're also welcome to bring Birthday cake / snacks to the party if you don't want to use all your time for painting.
Book your choice of the following:
Pull out all the stoppers with our money bank party!!
The Money Bank party - £16 per child
Each child chooses one from a selection of 6 - 8 of our fantastically fun money banks, e.g penguin / piggy / skull / dragon / sneaker...
(NB. includes standard size money banks only)
* NEW !! * The Trinket Box party - £16 per child
Each child chooses one from a selection of 6 - 8 of our brilliant boxes to keep their bits and pieces in! e.g heart / robot / cupcake / treasure chest / square...
The Breakfast Time party - £14 per child
Each child chooses one from our standard mug / animal mug / miso bowl / party plate / pasta bowl / milk jug
The Party Animal party - £12.50 per child
Each child chooses one from a selection of 6 - 8 party size animals, e.g cat / owl / monkey / turtle / dog / dragon...
Party times:
Saturday party room slots are:
11am - 12.30pm
1pm - 2.30pm
3pm – 4.30pm
Sunday party room slots are:
11.30pm - 1pm
2pm - 3.30pm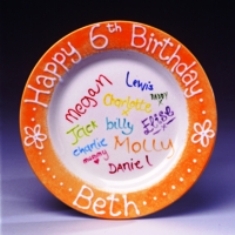 HOW IT WORKS - We set you up with the paints and then you create your own pottery masterpiece! You'll get lots of advice and encouragement from our friendly staff and we have examples, sponges and stamps to help inspire. Pottery is then available to collect after firing, usually in 10 days once wrapped.
CLICK HERE TO DOWNLOAD YOUR PARTY INVITATIONS!
BOOKING - Call us on 0117 927 3666 to discuss your requirements and available start times.